All-On-4® Dental Implants – Mount Pleasant, TX
Replacing Your Smile in a Single Appointment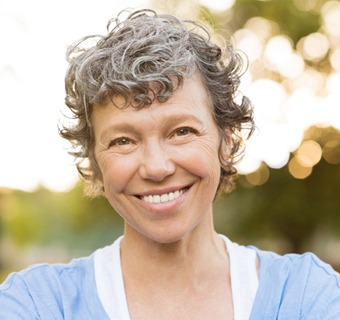 If you're missing all or most of your teeth, you may be familiar with the aesthetic and functional disadvantages that you face on a day-to-day basis. Replacing your missing smile is important, not only for your health, but also for your appearance and confidence in social situations. Instead of a traditional denture, we can offer you All-On-4 dental implants in Mount Pleasant. This procedure can replace a full arch of your smile in a single appointment!
Why Choose Us for All-On-4?
High-quality, custom-made restorations
In-office advanced dental technology
Short turn around time from custom dental lab
How Do All-On-4 Implants Work?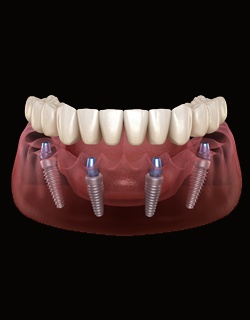 In most cases, this process only requires 4 dental implants to replace a whole row of teeth, which is why this solution is called All-On-4. This can be done because Dr. Sikes will find the parts of your jawbone that are the thickest and most healthy, allowing him to place all 4 implants during the same procedure. You will receive a temporary denture immediately after to keep up with your appearance until your implants have completely fused to your jawbone. Then, you'll come back into our office, where Dr. Sikes will place your permanent denture.
Am I A Candidate for All-On-4 Implants?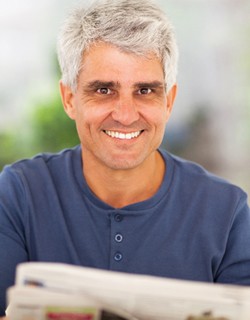 The only way to tell with certainty if you're a candidate is to schedule a consultation with Dr. Sikes. However, you may be a good candidate for All-On-4 if you:
Are missing all or most of your teeth
Have a strong enough jawbone to accommodate implants
Don't have any oral or overall health issues that would affect your healing process
Interested in a replacement with health benefits and functionality
What Are the Benefits of All-On-4 Implants?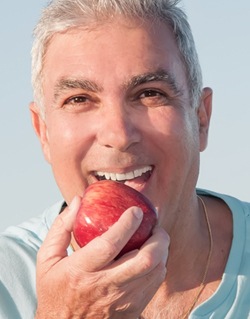 There are advantages that you receive with All-On-4 dental implants that you simply won't get with other options, including:
Only one surgery is required for the placement of multiple implants.
In most cases, you won't need bone grafting because the implants are placed in the thickest part of your jawbone.
Dental implants preserve your jawbone, keeping it healthy and strong.
All-On-4 can be used for patients who have lost their teeth many years ago.
Recovery time after surgery is typically short.
This procedure may cost less than traditional dental implants.
You'll be able to enjoy a strong and beautiful bite for years to come.
You won't have to worry about a denture slipping and sliding in your mouth.
All-On-4 VS Traditional Dental Implants
All-On-4 has some advantages over traditional dental implants that we have mentioned above, but traditional implants come with a few benefits of their own. They can be used to replace one tooth to many, but they also allow you to choose whether or not you want your restoration removeable or fixed. Dr. Sikes will examine your mouth and discuss your smile goals before recommending which one would work best for you.