All-On-4® Dental Implants – Mount Pleasant, TX
Replacing Your Smile in a Single Appointment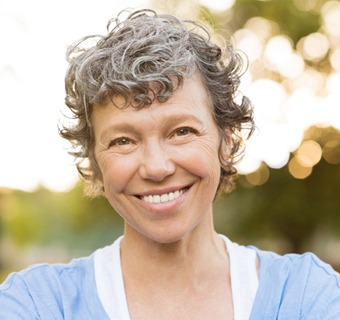 If you're missing all or most of your teeth, you may be familiar with the aesthetic and functional disadvantages that you face on a day-to-day basis. Replacing your missing smile is important, not only for your health, but also for your appearance and confidence in social situations. Instead of a traditional denture, we can offer you All-On-4 dental implants in Mount Pleasant. This procedure can replace a full arch of your smile in a single appointment!
Why Choose Us for All-On-4?
High-quality, custom-made restorations
In-office advanced dental technology
Short turn around time from custom dental lab
How Do All-On-4 Implants Work?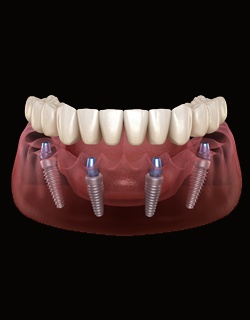 In most cases, this process only requires 4 dental implants to replace a whole row of teeth, which is why this solution is called All-On-4. This can be done because Dr. Sikes will find the parts of your jawbone that are the thickest and most healthy, allowing him to place all 4 implants during the same procedure. You will receive a temporary denture immediately after to keep up with your appearance until your implants have completely fused to your jawbone. Then, you'll come back into our office, where Dr. Sikes will place your permanent denture.
Am I A Candidate for All-On-4 Implants?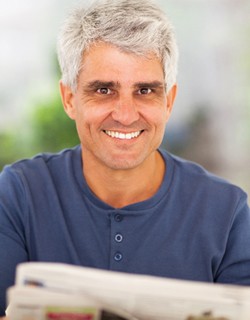 The only way to tell with certainty if you're a candidate is to schedule a consultation with Dr. Sikes. However, you may be a good candidate for All-On-4 if you:
Are missing all or most of your teeth
Have a strong enough jawbone to accommodate implants
Don't have any oral or overall health issues that would affect your healing process
Interested in a replacement with health benefits and functionality
What Are the Benefits of All-On-4 Implants?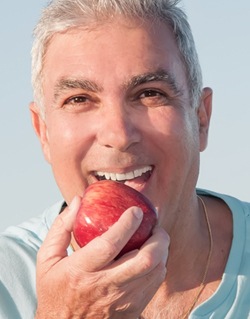 There are advantages that you receive with All-On-4 dental implants that you simply won't get with other options, including:
Only one surgery is required for the placement of multiple implants.
In most cases, you won't need bone grafting because the implants are placed in the thickest part of your jawbone.
Dental implants preserve your jawbone, keeping it healthy and strong.
All-On-4 can be used for patients who have lost their teeth many years ago.
Recovery time after surgery is typically short.
This procedure may cost less than traditional dental implants.
You'll be able to enjoy a strong and beautiful bite for years to come.
You won't have to worry about a denture slipping and sliding in your mouth.
All-On-4 VS Traditional Dental Implants
All-On-4 has some advantages over traditional dental implants that we have mentioned above, but traditional implants come with a few benefits of their own. They can be used to replace one tooth to many, but they also allow you to choose whether or not you want your restoration removeable or fixed. Dr. Sikes will examine your mouth and discuss your smile goals before recommending which one would work best for you.
All-on-4 FAQs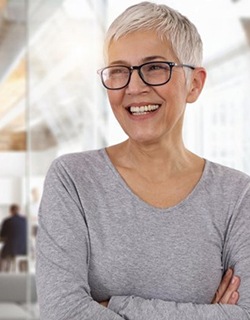 For patients who are missing most or all of their teeth, All-on-4 in Mount Pleasant is probably the most efficient, cost-effective, and beneficial way to rebuild your smile and restore your oral health after extensive tooth loss. However, it's perfectly natural to have some concerns about the treatment process before going through with it. To make things more convenient for you, we've included this section with some frequently asked questions about All-on-4 that our practice gets a lot. If you have an All-on-4 question that isn't answered on this page, just give us a call and ask!
How Long Does the All-on-4 Process Take?
Every patient has different needs and can expect a different timeline, but a basic guideline for the All-on-4 treatment includes:
An initial consultation
The surgical placement of the implants and extraction of remaining teeth if necessary
An appointment about four months later to take impressions for the permanent set of teeth
Another visit about two months after that to place your permanent denture
Generally, the whole process can take anywhere from six months to a year. However, this is often quicker than the traditional dental implant procedure, as bone grafting is not usually required with All-on-4. We can lay out a more personalized treatment timeline during your consultation.
How Much Does All-on-4 Cost?
The price of All-on-4 is dependent on several variables, such as:
Whether you'll need gum disease therapy or tooth extractions beforehand
Your general oral health
The materials used
The specialist's experience
When you compare this procedure to the cost of getting dental implants in Mount Pleasant to individually replace each missing tooth, All-on-4 is significantly more cost-effective. Although dental insurance plans don't often cover the cost of implants, our team will be more than happy to file your claims for you to maximize any available benefits. We can also help you apply for a low-interest loan through the third-party financing company CareCredit.
Will My Results Look Natural?
When designing your new set of pearly whites, Dr. Sikes takes multiple aspects of your appearance into consideration, including your facial shape, age, skin tone, and personality. Once all of these factors are combined, he is able to create a denture that looks identical to the teeth you were born with. In fact, many patients even comment that their new teeth are even more beautiful than their natural ones ever were! After the All-on-4 procedure is complete, onlookers shouldn't even be able to tell that your smile isn't "natural."
How Do I Take Care of My New Teeth?
More often than not, All-on-4 is fixed, meaning only a dental professional will be able to remove it. If this is the case, you can maintain it similarly to how you would take care of natural teeth. Brush, floss, and rinse with a non-alcoholic mouthwash every day.
If your dentist in Mount Pleasant decides that a removable prosthetic would be best for you, care for it like a traditional denture. Soak it in lukewarm water or denture cleanser overnight, and brush it with a soft-bristled toothbrush (but no toothpaste) at least once daily. And no matter which option you choose, remember to visit us for a checkup twice a year!