Porcelain Veneers – Mount Pleasant
Perfect Smiles in Just 2 Appointments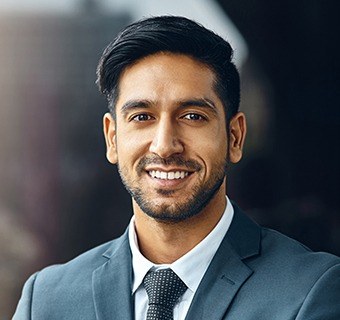 Your smile is your introduction to the world, conveying a variety of emotions and unique characteristics in a single instant. If you feel that your smile is sending the wrong message, you aren't alone. Millions of men and women in America feel dissatisfied with the appearance of their smiles. At the Mount Pleasant, TX dental office of Dr. Robert C. Sikes, our team specializes in creating luminous, healthy smiles with a comprehensive menu of cosmetic dentistry services, including porcelain veneers.
Why Choose Us for Porcelain Veneers?
Able to fix stains, chips, cracks, & gaps with just one procedure
Always custom-made for every patient
Partnered with local dental lab to shorten turnaround time
What are Porcelain Veneers?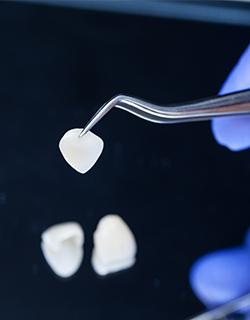 Porcelain veneers are ultra-thin, tooth-colored layers of dental porcelain that are bonded directly to the front surfaces of your teeth. The material used to craft custom veneers is highly resistant to stains, and its composition promotes a natural, healthy appearance. Even the most flawed smiles can be transformed in as few as two visits to our office.
Porcelain veneers are among the most popular cosmetic dentistry solutions available today. They are commonly used to correct a wide variety of dental aesthetic concerns, including:
Teeth that are unevenly spaced
Gaps between front teeth
Deeply set stains, including those that are resistant to teeth whitening efforts
Chips and cracks in the enamel
Teeth that appear too small in relation to surrounding dentition
Mild to moderate misalignment and crowding
During your porcelain veneers consultation with Dr. Sikes, we will take the time to discuss your unique goals and expectations for your cosmetic procedure. We invite you to bring along any photographs of smiles you like and admire. Talking with you about your cosmetic dentistry options will allow Dr. Sikes to develop a customized treatment plan that takes all of your needs and desires into consideration.
The Porcelain Veneers Process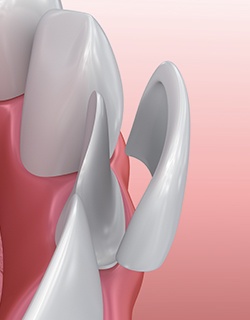 Once you and Dr. Sikes have decided on your desired end result, your teeth will be prepared for the placement of your veneers. Preparation involves the removal of a very small amount of enamel from the tooth surface. This allows your veneers to lie flush with your gum line for a natural look. Temporary veneers will be placed while your permanent set is meticulously crafted in a specialized dental lab. At your next visit, the temporaries will be removed and your final set of custom porcelain veneers will be placed. You'll leave our office looking and feeling great with a smile you'll be proud to show off to the world.
Schedule Your Cosmetic Dentistry Consultation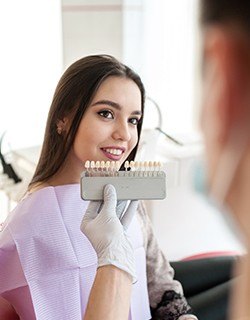 If you'd like to experience what a dramatic difference porcelain veneers can make in the appearance of your smile and in your daily life, contact us today to schedule your consultation. Dr. Sikes and his team proudly welcome patients from throughout the Mount Pleasant, TX area, as well as surrounding communities. We look forward to serving the oral healthcare needs of your entire family.