Dentures & Partial Dentures – Mount Pleasant, TX
Bring Back Your Complete Smile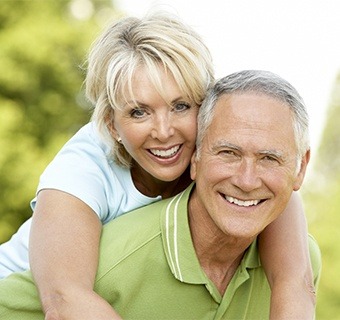 Teeth are absolutely essential for everyday life, and no one understands this better than people who are missing quite a few of them. Speaking, eating, and even feeling good about yourself can all become a struggle with an incomplete smile. For patients dealing with this problem, Dr. Sikes is happy to offer a trusted solution: custom-made dentures. Whether you are missing just a few teeth or all of them, he'll make sure you leave our office with a smile you'll always be eager to show off.
Why Choose Us for Dentures & Partial Dentures?
Partnership with local dental lab
Custom-made for every patient
Implant-retained dentures available
Modern-Day Dentures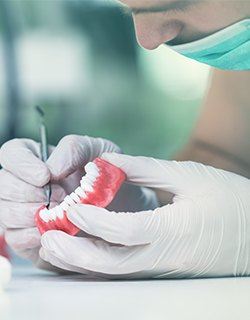 You may be familiar with dentures from TV and movies, or maybe you even have a family member who wears one, but modern-day dentures are very different from the bulky, unnatural-looking prosthetics you may have seen in the past.
Today, dentures are made using specially-designed ceramic teeth that not only look incredibly lifelike, but are extremely strong as well. They are usually attached to an acrylic base designed to look like gum tissue, which helps the denture sit comfortably in the mouth and restore a patient's original appearance all at once.
Our Denture Options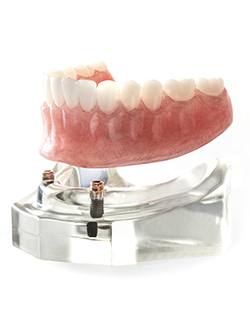 Partial Dentures: If you still have some healthy teeth, we can make a partial denture that fills in the gaps like the missing piece of a puzzle. Partials rely on neighboring teeth for support and usually fit into the mouth using small metal clasps that loop around natural dental structure.
Full Dentures: When an entire row of teeth needs to be replaced, full dentures are the answer. These sit directly on the gums thanks to natural suction/denture adhesive.
Implant-Retained Dentures: These can look just like the dentures we described above, but the difference is that the prosthetic is attached directly to the jawbone using multiple synthetic tooth roots, or dental implants. This anchors the prosthetic within the jawbone similarly to real teeth, meaning patients don't ever have to worry about their denture slipping unexpectedly.
Reclaim Your Smile Today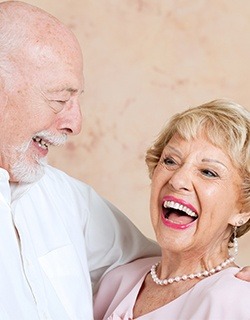 If you're tired of dealing with your missing teeth or an old, ill-fitting denture, then we recommend giving Dr. Sikes a call. You'll be scheduled for a consultation, and at this appointment, he'll go over your available denture options so you can choose the one that best suits you. Then, over the course of multiple appointments, he'll design the perfect prosthetic just for you.
Ready to have a full smile again? We can give it to you, so call today.
Dentures FAQs
From partials to implant-retained alternatives, dentures in Mt. Pleasant are a modern tooth-replacement option capable of addressing the smile, bite, and speech issues that come with advanced tooth loss. To confirm that it is the best restorative dentistry option for your unique smile needs, it is important to do your research before committing to treatment. For that reason, we have responded to some of the most frequently asked questions we get from patients here. If you'd prefer to speak directly with our team, contact our office!
What Are The Benefits of Dentures?
According to historians, dentures were used all the way back in 1728! Fortunately, they have come a long way since then. Today, they provide patients with a number of benefits, including:
Natural-looking appearance: Made from high-quality materials, the gum-colored base and custom-made prosthetic teeth result in an extremely lifelike look.
Restored bite: Both full and partial dentures can fill in the gaps in your smile, restoring your strong bite. Simply put, you can enjoy your favorite foods pain-free again!
Enhanced speech: Even one missing tooth can hinder your pronunciation. Fortunately, dentures can renew your smile and leave issues like slurred speech from advanced tooth loss in the past.
Cost-effective: Dentures have a lower upfront cost than dental implants, which ensures the price doesn't stand in your way of rebuilding your smile.
Long-lasting: Although dentures aren't meant to last a lifetime, they can last 10+ years with proper care.
How Should I Care For My Dentures?
As mentioned above, your dentures can last over a decade. To prolong their lifespan, prioritizing their care is beyond essential. With this in mind, make sure to:
Brush your prosthetic teeth and the gum-colored base with a denture-friendly toothbrush and cleaner to remove food particles, plaque, and debris.
Never use household items, like bleach, unless specifically instructed to do so.
Soak your dentures overnight to preserve their shape and keep them clean.
Care for any remaining natural teeth with a solid at-home oral hygiene regimen.
Avoid poor dental habits that can compromise their structure, like chewing on ice or using tobacco products.
Visit our restorative dentist in Mt. Pleasant frequently for checkups, cleanings, and adjustments.
Can I Eat Normally With Dentures?
Thanks to the high-quality materials they are crafted from, you will be able to eat normally with dentures. That being said, there is a bit of a learning curve, especially if this is your first set. Therefore, it is a good idea to start with soft foods, like yogurt and applesauce. Once you have mastered the movement, you can work your way up to your normal diet. Just make sure to avoid foods that could potentially harm your appliance, like hard candy.
Can I Sleep In My Dentures?
Technically, yes. However, it is a good idea to remove them at night to give your gums a rest. To preserve their shape while simultaneously cleaning them, soak them in a denture-friendly cleaner or glass of water while you rest. That way, they are in tip-top shape come morning!