Dental Implants – Mount Pleasant, TX
The Best Answer for Tooth Loss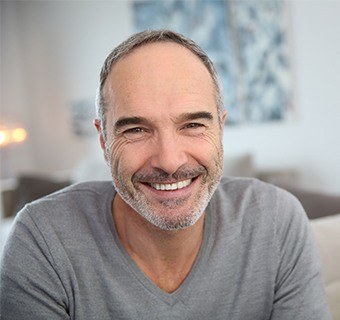 When a patient comes to see us with missing teeth and asks us how they should replace them, our first recommendation is always dental implants. Why? In short, they are the most complete and advanced solution available today, able to provide unmatched aesthetics, function, and durability compared to all other treatments. If you're ready to permanently close those gaps in your smile, Dr. Sikes is ready to provide you with the best thing modern dentistry has to offer right here in Mount Pleasant. To learn more about what they could do for you, contact us today.
Why Choose Us for Dental Implants?
Partnered with local dental lab to deliver world-class restorations
Able to replace any number of teeth for a lifetime
Dentist with many years of experience
Benefits of Dental Implants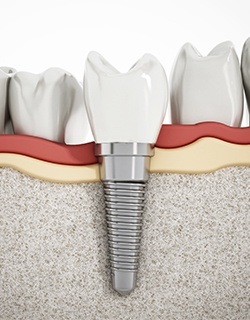 Complete Tooth Replacement: So why are dental implants so special? Because they are the only treatment that replaces both the root and crown of a tooth. Other restorations only bring back the upper portion of a tooth, but thanks to implants' two part structure, patients never have to worry about their new teeth breaking or shifting out of place.
Unmatched Aesthetics: Dental implants are fitted into the jawbone just like natural teeth and topped with 100% porcelain restorations made by a lab right here in Mount Pleasant. The end result will be a tooth even YOU will not be able to tell apart from the others.
Bone Preservation: The jawbone usually begins to deteriorate in the area where a tooth has gone missing, but implants can actually stop and even reverse this process. This preserves the foundation for the remaining teeth and helps a patient maintain a more youthful appearance over time.
Longevity: All you need to do is brush, floss, and routinely see your dentist to help an implant last for the rest of your life. No other option has this kind of durability!
Indications for Dental Implants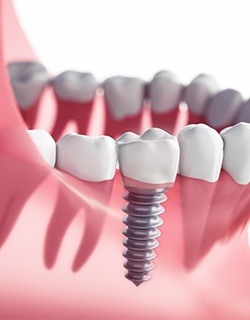 Dental implants can be paired with a variety of restorations in order to bring back any number of teeth. Which one would be best for you? Dr. Sikes can help you choose from the following options:
Missing One Tooth
A porcelain crown can be placed onto an implant root that's positioned in between two healthy teeth. Unlike with a bridge, implants can bring back a single tooth without the surrounding dental structure needing to be altered.
Learn About Single Tooth Implants
Missing Multiple Teeth
The dental implant crowns we touched on above can be placed throughout the mouth to close multiple gaps, but for patients with consecutive missing teeth, just two implant roots can support up to 4 teeth in a row. This is a much more cost-effective solution compared to replacing each tooth individually, and it still delivers fantastic results.
Missing All Teeth
Even patients who are missing most of or all of their teeth can benefit from implants. A custom-made denture can be held in place using just 4-6 strategically positioned roots. Not only do implant dentures fit better than regular ones, but they also restore much more of a person's bite strength.
Partnered With Local Specialists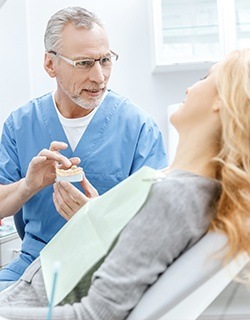 In order for a patient to get dental implants, they must undergo a minor surgery in which the new roots are placed into the jawbone. To ensure our patients only receive the highest quality care, we have partnered with a network of local oral surgeons who have each performed the procedure countless times. Thanks to them, we know that our patients' new smiles will always have a strong foundation they can trust. Once a patient has healed, they will return to Dr. Sikes to receive their permanent restorations.
Cost of Dental Implants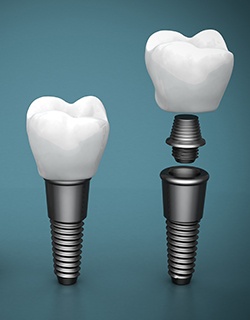 Because dental implants are so versatile, there actually is no set cost for the treatment. The number of implants needed, the type of restoration used, and even the location of the missing teeth can all influence the final price. Before we begin treatment, our team will go over all relevant pricing information with you so you'll know exactly what to expect.
While dental implants are certainly an investment in your smile, they are a wise one, especially if you're budget-minded. Regular bridges and dentures typically need to be replaced multiple times over the course of a person's life, compounding their initial lower cost, while dental implants can easily last for 30 years or more, meaning a patient can easily save thousands in retreatment.