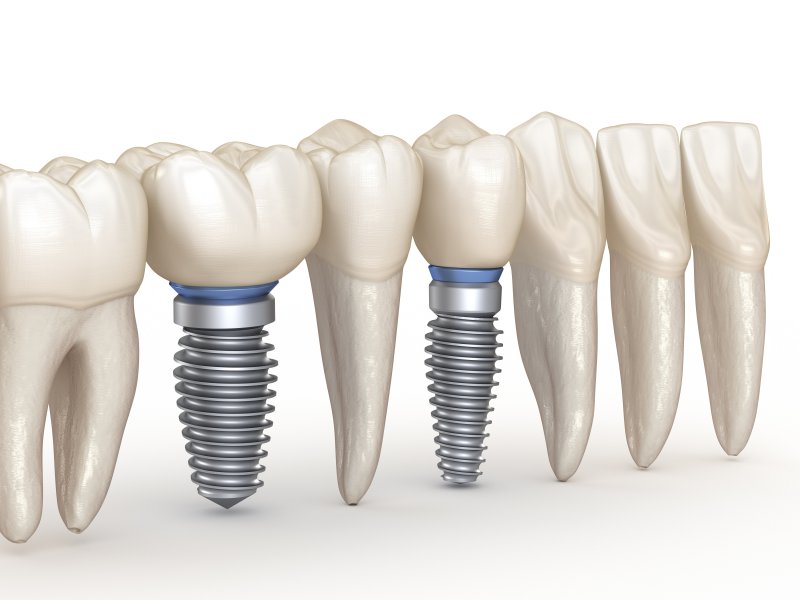 There's no other restoration quite like dental implants in Mt. Pleasant when it comes to replacing missing teeth; not only do they look and feel just like natural pearly whites, but they also help preserve the jawbone and can last for decades. Clearly, getting dental implants can be life-changing, which is why it's important to find someone you can trust to perform the procedure successfully. While some general dentists place implants themselves, Dr. Sikes will refer you to a local specialist. This practice will let you enjoy 3 important advantages.
1. A Specialist Raises the Chance of Success and Lowers the Risk of Complications
While dental implants generally have an extremely high 95% success rate, there's a chance they could cause long-term problems if the surgery isn't performed properly. For example, an incorrectly placed implant post could damage a nerve and cause numbness or tingling in your tongue, lips, gums, or face. Also, an implant in the upper jaw might protrude into the sinus cavity and cause damage as a result.
Getting dental implants is an important and costly procedure; you don't want them to fail because of a mistake. For this reason, it's always better to see a specialist who has received thorough training to give yourself the best chance of keeping your new smile.
2. A Specialist Can Improve the Aesthetics of Your New Smile
Because dental implant specialists tend to have better equipment, they have more options for improving the appearance of your new teeth. They can make sure the gums around your implant look as natural and aesthetically pleasing as possible. That way, other people won't realize that you have a tooth supported by a metal post; all they'll see is a dazzling, healthy grin.
3. A Specialist Can Help You Manage Your Gum Disease
Many oral surgeons and prosthodontists recommended by a dentist in Mt. Pleasant are also experts on treating gum disease. Gum infections are probably one of the biggest reasons why dental implants fail; they destroy the gum and bone tissue around the post, preventing it from integrating with your mouth correctly. It's important to make sure your gums are healthy before implant surgery, and a specialist will have the training to identify and treat any gum issues as quickly as possible.
Dr. Sikes has partnered with multiple oral surgeons in the area who have each helped numerous patients repair their smiles with dental implants. When you're referred to a specialist, feel free to ask about their qualifications as well as details about their office. (What are their hours? Where's the office located? What kind of fees can you expect?) That way, you can rest assured that you've made the right choice when receiving your new teeth.
About the Author
Dr. Robert Sikes became a dentist so that he could work for himself while being given the chance to enhance the lives of his patients. For 38 years he has been creating healthier smiles with quality care; he's happy to recommend dental implants for patients who have lost any number of teeth. To schedule a consultation to learn more about the dental implant process and the specialists who perform the surgery, visit Dr. Sikes's website or call (903) 572-9720.