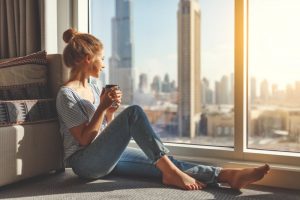 To slow the spread of the COVID-19 pandemic and keep our community safe, Titus County Judge Brian Lee has issued extensive social distancing and stay at home orders. With so many drastic changes to our every day lives and a new abundance of time spent at home, it's natural to feel a bit anxious or bored. However, now is an excellent opportunity to reevaluate some of your daily routines that you hadn't thought much about before. Here are seven productive habits your Mount Pleasant dentist recommends practicing to keep yourself and your smile healthy during quarantine.
1.) Brush for Two Minutes Twice a Day
Most Americans don't spend enough time thoroughly cleaning their smiles. Time yourself to ensure you're brushing for a full two minutes twice a day. Additionally, health experts report that practicing daily routines helps retain a sense of normalcy and eases the mind a bit.
2.) Establish Regular Flossing Habits
The last thing you need at the end of quarantine is to find out you've developed gum disease! This common oral health condition afflicts well over half the American population, but it can be kept at bay with regular flossing. Use some of your extra time at home to establish flossing in your daily life.
3.) Cut Back on Snacking
You probably know that eating sugary treats will lead to cavities. However, what many people don't realize is that snacking throughout the day dramatically increases your risk of tooth decay, even if you're eating healthy items like fruit. Be mindful of how often you eat and try to limit it to mealtimes.
4.) Stay Hydrated
Drinking plenty of water throughout the day is essential to your overall health and immune system. To remind yourself to stay hydrated at home, try writing notes, setting alarms, or making a game of it.
5.) Exercise Regularly
You can start being more active without a gym membership. Aim to get 30 minutes of physical activity a day, which can include cleaning, playing with pets or children, dancing, or online workout classes.
6.) Set Up a Sleep Schedule
Getting eight to nine hours of sleep every night plays a big role in your mental health and immune system. If you're having trouble staying awake through the day or sleeping soundly at night, you may need to exercise more, limit your alcohol consumption, or disconnect from electronics before bed.
7.) Learn to Effectively Manage Stress
It's completely understandable to feel stressed or anxious during these uncertain times. To make the best out of a bad situation, you can use this time to practice managing stress. A few recommendations from the Centers for Disease Control and Prevention include:
Occupying your mind with calming activities you enjoy. This could include yoga, meditation, creating art, writing, reading, or taking a walk outside.
Get information from trusted sources like the CDC or the WHO, and limiting your overall exposure to news stories and coverage of the COVID-19 pandemic.
Communicating your feelings and concerns to trusted friends, close family members, personal support groups, and professionals.
It's currently a strange time for all of us, but it's also an excellent opportunity to improve our lives with healthy routines. With these seven easy but important habits, you can look forward to leaving quarantine with a happy, healthy smile!
About the Author
To Dr. Robert Sikes and his talented team, the health and safety of our patients, staff, and community has always been priority number one. Typically, he shows this by keeping the smiles of Mount Pleasant healthy and strong with excellent preventive dental care. However, to slow the spread of the COVID-19 pandemic, he has made the difficult decision to postpone all non-emergency care until the quarantine orders are lifted. However, he is still available to answer your questions and treat any true dental emergencies, so feel free to contact him via his website or at (903) 572-9720.