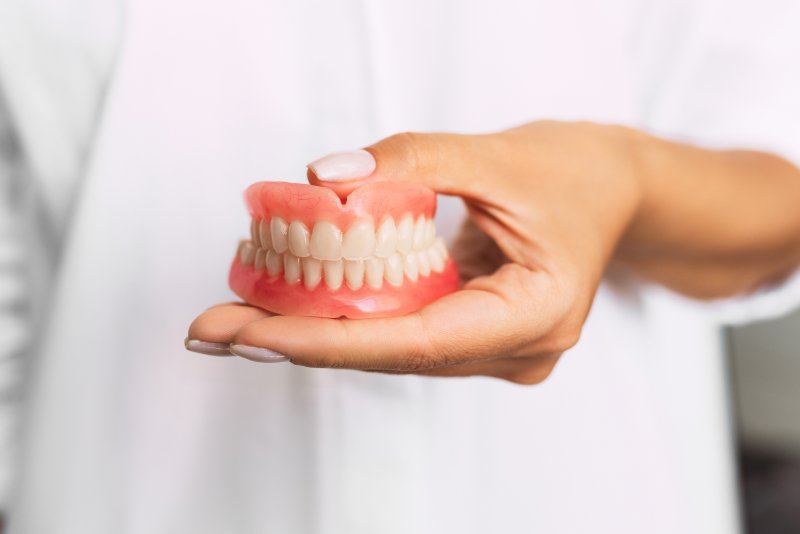 Everyone wants to have a beautiful smile, but it is difficult to feel confident if you are missing teeth. Approximately 178 million Americans are missing at least one tooth. Fortunately, dentures in Mt. Pleasant are just one way that many people have been able to get their smile back. However, they require plenty of care if you want to wear them as long as possible. Read on to learn some tips from your dentist about the best way that you can clean your false teeth and other ways to care for them.
Rinse Your Dentures After Eating
Following each meal, you should remove your dentures and rinse them off. This helps to dislodge any food particles that remain in your mouth and prevents the growth of excess bacteria. Remember to place a towel beneath you whenever you take them out. This way, if you accidently drop them, they are less likely to become damaged.
Brush Your Dentures Daily
Using a soft-bristled toothbrush and a non-abrasive denture cleanser, gently brush your dentures once daily. This removes plaque and food debris. Be sure to carefully remove any denture adhesive if you use it.
Soak Your Dentures
It helps to keep your dentures moist. Before you go to sleep, place your dentures in either water or a mild denture-soaking solution. This prevents them from drying out and helps to keep them clean. You should do this every night.
Keep Your Mouth Clean
Whenever your take out your dentures, use a soft-bristled toothbrush to clean your natural teeth. Remember to clean your gums, tongue, and cheeks as well. You can either use your toothbrush or a tongue scraper in order to remove residue left on your tongue.
Rinse Your Dentures Before Putting Them In
Many cleaning and soaking solutions contain chemicals that shouldn't be ingested. Make sure you give your dentures a rinse before placing them back into your mouth.
Be Careful with Adhesives
Adhesives can help to provide you with a tight grip, but you shouldn't apply too much because they often contain zinc. When consumed in high enough quantities, it's possible to suffer from zinc poisoning. Remember to only use the amount instructed.
See Your Dentist
Seeing your dentist for regular checkups is important. You should address any discomfort related to your dentures. Ensure that they still fit properly because your mouth changes over time. Your dentist in Mt. Pleasant wants to ensure that your dentures are as comfortable as possible.
Dentures are life changing, but you can't forget about the care they require to be most effective. Use these tips for the best, most hygienic, and most comfortable denture experience.
About the Author
Dr. Robert C. Sikes serves patients in his native city of Mount Pleasant, TX. He earned his Doctor of Dental Surgery from the Baylor College of Dentistry and has gained well of three decades of experience. He maintains memberships in the American Dental Association and the Texas Dental Association. Dr. Sikes offers dentures as a tooth replacement option. For more information or to schedule an appointment, visit his website or call (903) 572-9720.