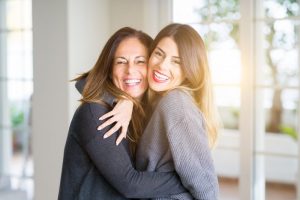 Missing teeth don't just impact your self-confidence and willingness to jump into social situations. They can have grave effects on your oral health as well. Leaving gaps in your smile can make your daily life difficult by impacting your ability to do basic functions such as chewing and speaking. Instead of choosing traditional restorations such as dentures, choose All-On-4 dental implants in Mount Pleasant. This procedure offers a laundry list of benefits, and unlike regular implant-retained dentures, can be completed in a single appointment! Learn how this restoration option can improve your quality of life below.
What are All-On-4 Dental Implants?
Typically, this procedure involves the placement of 4 titanium implants to replace an entire row of teeth. If you're missing the majority of your teeth, this option is a fast and effective restorative option. Your dentist will locate the strongest and healthiest parts of your jawbone to place the implants on.
Just like traditional implant-retained dentures, All-On-4 implants fuse with your jawbone through a process called osseointegration. After your titanium posts are placed, your dentist will wait for this process to occur and give you a set of temporary dentures in the meantime. After your custom-crafted dentures arrive, your dentist will attach them to your implants, and just like that, you'll have a completed smile!
What's the Difference Between All-On-4 and Regular Implants?
All-On-4 offer some similar advantages to regular implant-retained dentures. Unlike dental implants, this procedure can't replace a single tooth, just an entire row. Also, with dental implants, you can choose whether you want your restoration to remain fixed or removable. To see if All-On-4 is the best restorative option to replace your missing teeth, be sure to schedule a consultation with your dentist in Mount Pleasant to discuss your goals and see if you're a candidate.
What are the Benefits of All-On-4 Dental Implants?
The best way to learn about how All-On-4 can benefit you is to discuss your unique smile with your dentist. The great thing about this procedure is that it offers you a variety of benefits that traditional restorations like dentures and even dental implants can't, including:
Completed in a single surgery to place your 4 implants.
Typically, you won't need bone grafting.
Stimulate your oral tissues and preserve your jawbone.
Usually a short recovery time.
Most cost-effective than traditional dental implants.
You won't need to worry about slipping or shifting dentures.
Everybody deserves to achieve their best smile and optimal oral health. Replacing your missing teeth with All-On-4 dental implants can offer you benefits that traditional restoration options aren't able to. To take the first step on your journey to a smile that you're proud to show off and to improve your quality of life, schedule a consultation with your dentist today!
About the Author
Dr. Robert Sikes has been giving his patients healthier smiles and providing high-quality dental care for nearly 4 decades. He enjoys watching his patients regain their confidence and improve their overall quality of life by giving them individualized treatments. He offers a variety of services including dental implants, All-On-4, dentures and partials, and crowns and bridges. For questions or to schedule a consultation to learn if All-On-4 is right for you, visit his website or contact 903-572-9720.