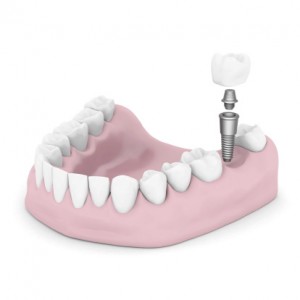 Are you presently dealing with a missing teeth problem? They can be terrible for anyone's mouth. Those open spaces are like breeding grounds for bacteria to thrive. You don't want any bacteria thriving in your mouth. That can lead to many problems that could put your overall health at risk. Dental implants help keep bacteria away while providing a permanent solution to missing teeth. Missing teeth can have a huge impact on your everyday tasks, from chewing and eating to yawning, sneezing and more. Heck, even talking can become a problem. There's no reason to have to suffer with missing teeth anymore. Our office in Mount Pleasant, TX is on your side and wants you to live life free of missing teeth. Have you considered dental implants? If you haven't already, you really should! They're capable of providing you with the comfort of a mouth full of teeth. Dr. Robert Sikes is the dentist Mount Pleasant, TX residents can trust!

Why Do So Many People Choose Dental Implants To Fill Missing Spaces?
In the past, dental bridges, dentures and other restorative dentistry options have been the only way to treat missing teeth. You need a root to help keep your tooth or teeth in place. Dentures and crowns/bridges don't have any roots. Your jaw provides the stability that your teeth need to stay where they are. Missing spaces can leave your gums and jaw susceptible to all sorts of problems that you don't want to experience.
It's permanent treatment. Once dental implants are in, they don't come out. Instead of an actual tooth root, a titanium post is used to help keep a tooth in place for good. That's right, titanium. It's the same material that airplanes are made of. In addition to incorporating these super-strong posts, dental implants are composed of excellent dental material that blends in perfectly with the rest of your teeth. Nobody you come into contact with will know you have a dental implant.
Did we mention you can go back to enjoying your favorite foods? Chewing and biting down will no longer be a problem. You won't have to worry about a dental implant coming loose or leaving the jawbone. Once they're in there, there's no going back. Just think how different life will be once you're able to start eating your favorite foods! Just remember to stay away from sugary treats and other foods that could leave your smile in danger of developing tooth decay.
Ready for Dental Implants? Schedule a Consultation!
Our state-of-the-art dental practice in Mount Pleasant, TX is ready to bring stability back to your mouth. Filling missing spaces is important for a beautiful appearance and proper functionality. We welcome patients from all over, including Cookville, Argo, Marshall Springs, Winfield and beyond. Dr. Sikes is the cosmetic dentist that's ready to bring your smile back to normal! Are you ready for implant restoration therapy?