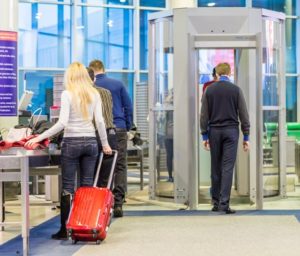 If you're an avid traveler, you're probably already planning your next trip! But before you depart, you might be curious about whether your brand-new dental implants will cause any complications, such as setting off the metal detectors at the airport. Here's everything you need to know about the composition of dental implants and why you don't need to worry about them causing any issues that might impede your journey.
What Are Dental Implants Made From?
Dental implants are considered the gold standard when it comes to tooth restoration since they're able to fully replicate the entire structure of missing teeth. This is due to how they're inserted; a surgical procedure is performed to place the implant posts within the patient's jawbone, where they'll begin to fuse with it over the course of several months.
In order for this fusion to occur, a very particular material must be used—not only must this substance be durable and able to last for decades, but it also needs to be able to healthily fuse with the bone matter. Fortunately, titanium fits the bill; not only is it strong, but the alloy doesn't set off metal detectors! Sometimes zirconia is also used in dental implants, which like titanium, can also slip through metal detectors without exposure.
Will Dental Implants Trigger Airport Metal Detectors?
Once upon a time, nearly all reconstructive metal materials were made out of stainless steel, which while durable, is also notorious for setting off all kinds of metal detectors. Most metal detectors function by creating an electromagnetic field in a given area. When a magnetic metal, such as steel, iron, or nickel, enters this field, the field becomes energized and triggers an alarm.
But since dental implants are typically constructed using titanium or zirconia, which are non-magnetic, your implants should not set off airport metal detectors! It's possible that in some cases, airport technology is capable of detecting even the most minute number of metals. In these scenarios, don't hesitate to explain to security that you have dental implants; it certainly won't be the first or last time they've encountered a traveler with them!
About the Author
Dr. Robert Sikes is thrilled to provide an exceptional level of dental care for patients and families in his hometown of Mount Pleasant, TX! Dr. Sikes received his DDS from the Baylor College of Dentistry and is a proud member of both the American Dental Association and the Texas Dental Association. If you have any questions about dental implants or you'd like to arrange a visit for you or a loved one, feel free to contact the practice online or by phone for further assistance: (903) 572-9720.