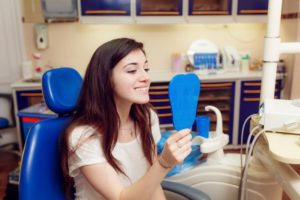 Losing a tooth can take a serious toll on a person's self-confidence at any age, but it can be particularly difficult for adolescents. A teenager with an empty space in their smile might struggle to give presentations in class, hesitate to audition for the school play, or even refrain from trying to make friends. For adults, dental implants are often the most highly recommended solution for tooth loss. But is it safe for teenagers to get dental implants? Keep reading to find out!
How Do Dental Implants Work?
Dental implants are replacements for the roots of the teeth – the part that you can't see because it's normally hidden below the gumline. The implants are tiny metal rods that are typically made from titanium. To place the implants, an oral surgeon creates small incisions in the gums and accesses the jawbone. Once the implants are embedded in the place where the teeth's roots used to be, the jawbone begins growing around the implants. This process, called osseointegration, can take up to six months, but it allows the implants to provide a sturdy, lasting foundation for any number of prosthetic teeth to be placed on top of them.
Before dental implants can be placed, a patient must have suitable bone density in their jaw. Otherwise, the implant won't be able to form a strong bond and it will ultimately fail.
Is It Possible for Teenagers to Get Dental Implants?
The jawbone usually isn't finished growing until a person has reached their late teens or early twenties. This means that dental implants are generally not recommended for teenagers.
Placing a dental implant into a jawbone that isn't done developing can be risky. The bone and gum tissue that surrounds the implant will probably shift into different positions as the post remains in place, so the implant may be pushed outward or even recede deeper into the gums. To minimize the chances of this occurring, it's best for your teen to find a different method of replacing their missing teeth.
Other Ways for Teens to Replace Missing Teeth
Until your son or daughter is old enough to receive a dental implant, their dentist might suggest another option, such as a dental bridge. Bridges can be ideal for people who have lost one or up to three teeth in a row. These replacement teeth are attached to crowns on either side, which are anchored onto the natural teeth on the ends of the gap.
Partial dentures can also be a good option for teens with missing teeth. This removable prosthetic contains several artificial teeth that are attached to a metal framework that seamlessly snaps into place behind the remaining teeth.
Even though dental implants might not be the best option for your teenager, that doesn't mean they have to live with an incomplete smile. Talk to their dentist today to explore their options for having a full, confident set of pearly whites again!
About the Author
Dr. Robert C. Sikes earned his Doctor of Dental Surgery degree in 1981 from the Baylor College of Dentistry. A native of Mount Pleasant, TX, he couldn't be happier to provide local families with the expert, gentle dental care they need. He offers a number of tooth replacement options at his practice, including dentures and dental bridges, and he partners with oral surgeons in the community to ensure top-quality dental implant treatment. To learn more about replacing your teenager's missing teeth, contact Dr. Sikes' office today by calling (903) 572-9720.