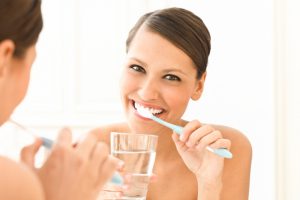 Most people who have lost one or more teeth are candidates for dental implants. Because they provide a whole-tooth replacement, dental implants are a highly popular option following tooth loss. More people than ever are choosing dental implants these days — are you a good candidate for implant dentistry? Learn whether or not you can benefit from a dental implant crown in Mount Pleasant from Dr. Sikes.
Considering Your Eligibility for Dental Implants
Are you fit for the dental implant procedure? Patients who are in good oral and overall health are typically suited for implant dentistry. Certain conditions or lifestyle factors may prevent the dental implants from fusing with the jawbone, the process that is crucial for their success. People with uncontrolled diabetes, gum disease, cancers, radiation in the jaw, or those who smoke or drink lots of alcohol may not be suited for the treatment. You and your dentist will discuss your health and lifestyle to determine whether or not the solution is right for you. It is important for you to be open and honest during this discussion for the best results.
What Are the Consequences of Missing Teeth?
They're more than just cosmetic. Even a single missing tooth affects your ability to eat, speak, and smile with confidence. Partial tooth loss weakens the jawbone and results in even more missing teeth later on. And the more teeth you lose, the less function you have in your mouth. Eating becomes a chore. Your may develop a lisp or whistle when you speak. And smiling is a lot less enjoyable with gaps in the teeth.
What Are My Options in Dental Implants?
The type of implants you receive, and the method of their placement, will depend on the location of your missing teeth. Dental implants can support a single crown, a fixed bridge, or a removable denture. They are completed in two phases: implantation and restoration. In all, the treatment for dental implants may last up to one year.
Single tooth replacement: After your dental implant has healed, an abutment is placed and a dental crown is secured on top. The dental crown may be made from porcelain, porcelain-fused-to-metal, or gold. Porcelain is a good option for front tooth replacement.

Fixed multiple tooth replacement: Dental implants replace multiple missing teeth without impacting the surrounding natural teeth like a traditional bridge. Custom crowns or bridgework blend with the surrounding teeth. Fixed tooth replacement cannot be removed for cleaning.

Removable implant-retained dentures: For an entire row of missing teeth in the top or bottom of the jaw, implant-retained dentures provide unsurpassed stability. Two to six implants can support the lower denture, and a minimum of four dental implants is needed to support the upper denture.
Maintaining Your Dental Implants
In eligible candidates, dental implants have a 95 percent success rate. They are fairly fail-safe — but they still require careful maintenance. Make sure you visit your dentist regularly for routine checkups and hygiene, and perform good dental hygiene at home. Brush, floss, avoid tobacco, and eat a nutritious diet for healthy teeth and gums with dental implants.
Are you interested in learning whether or not you are eligible for dental implants? We would love to discuss the possibility of restoring your smile with a Mount Pleasant implant crown. Contact us to schedule an appointment today!