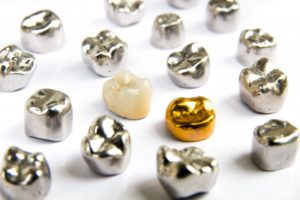 Every day, your teeth are exposed to an onslaught of factors that can permanently damage them. That's why when you're choosing to repair a broken or weakened tooth with a dental crown, it's important that it's made from the proper materials. Thankfully, dental crowns in Mt Pleasant come in a variety of options depending on its placement and your unique preferences. Here's what you need to know about what these popular restorations are made of and which one is right for you.
What Are Dental Crowns?
Did you know that your enamel is the hardest material in your body, even harder than your bones? Unfortunately, enamel isn't indestructible and unlike the rest of your body, damaged teeth can't heal themselves. Daily exposure to the acids in your food and pressure from chewing and talking can weaken teeth or break them.
Dental crowns are custom-made, tooth-shaped caps that fit over the visible portion of a tooth. This holds any broken pieces together while fortifying the structure as a whole. They're designed to prevent further damage and decay and can also be used to redesign the appearance of unsightly teeth.
What Materials Are Dental Crowns Made of?
Different areas of your mouth deal with different levels of pressure. For instance, while a front tooth needs to be durable enough to rip and tear food, a back molar needs to be able to withstand grinding and breaking down foods. Depending on the position of a dental crown, it may be made of:
Metal, which is the most durable option, is typically used for molars that are out of sight.
Porcelain-fused-to-metal, whichoffers a balanced combination between strength and appearance, making it a good choice for more visible teeth.
All-ceramic, which provides an incredibly lifelike appearance without sacrificing functionality. This material is the best choice for front teeth that need dental crowns.
What Are the Benefits of All-Ceramic Dental Crowns?
All-ceramic crowns are a popular choice among both patients and dentists thanks to benefits like:
Lifelike appearance: Dental porcelain reflects light and looks almost exactly like natural, healthy tooth enamel.
Strong: All-ceramic crowns have an aluminum oxide ceramic core that's covered in porcelain, which lowers its risk of breaking and allows it to typically last for 15 years or more.
Comfortable: Unlike metal crowns, porcelain won't react to temperatures or increase the likelihood of tooth sensitivity.
Biocompatible: Not only are all-ceramic crowns an ideal choice for those with metal allergies or sensitivities, but they won't irritate the gums or other soft tissues.
All-ceramic dental crowns are an excellent way to restore the look, function, and health of a tooth. If your smile needs to be repaired, your Mt Pleasantville dentist will be happy to help you choose the dental crown that's right for you.
About the Author
Dr. Robert C. Sikes is committed to helping the families of Mt Pleasant, TX stay happy and healthy with the highest quality dentistry. He's been restoring smiles with customized treatments for over 30 years and is proud to offer a comprehensive menu of dental services, including dental crowns. As an active member of the American Dental Association and the Texas Dental Association, he stays current with all the latest dental technology and techniques. If you have a weakened, broken, or unsightly tooth, don't hesitate to contact him via his website or at (903) 572-9720.