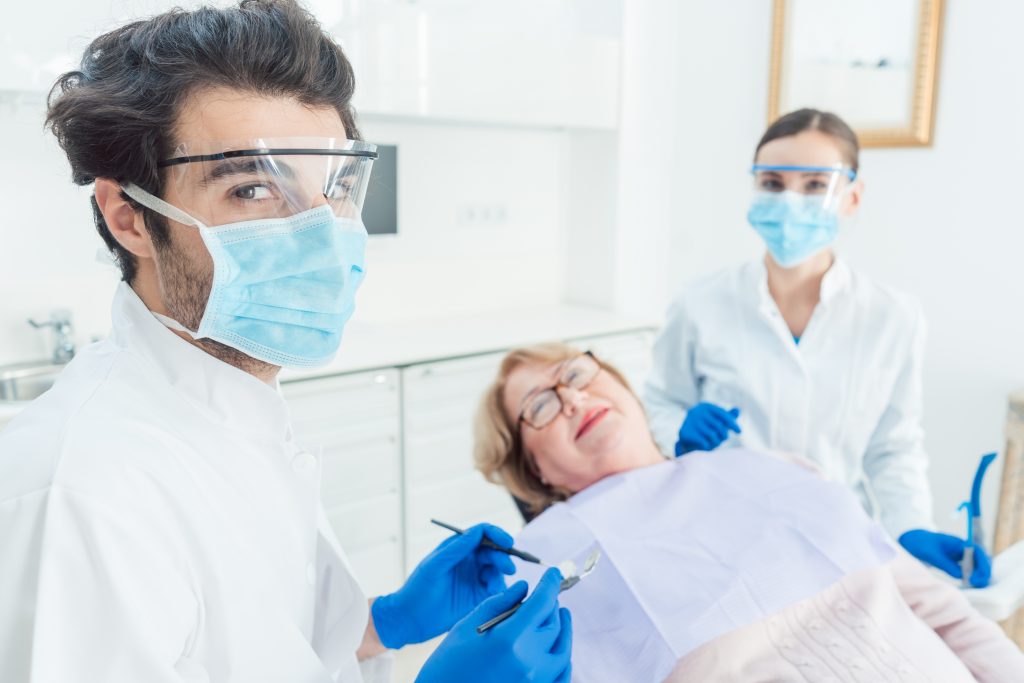 A lot has changed since you scheduled your summer visit to the dentist. Before, there weren't stay-at-home orders to consider, social distancing guidelines around every corner, and a face mask always within arms reach. With infection control at the top of everyone's mind, even a routine trip to the dentist can seem anxiety-inducing. Fortunately, your dentist in Mt Pleasant is taking these four extensive precautions to ensure your safety at your dental appointment during COVID-19:
Designated Safety Champion
Even before the current pandemic began, your dentist and their team prioritized infection control and cleanliness. However, both the CDC and OHSA have put forth new standards in light of the current pandemic. Therefore, dentists are providing additional training to their teams to enhance their knowledge and preparedness. They will also assign a designated safety champion each day. The team member in this role will answer questions from patients, ensure social distancing, and monitor the office.
Extensive Cleanliness
Now more than ever, creating a sterile, germ-free environment is a top priority. Therefore, your dentist is implementing extensive sanitation practices to prevent cross-contamination and ensure the safety of their patients and staff. At your next appointment, you can expect:
Frequent, thorough handwashing from the dental team.
Hospital-grade hand sanitizer available throughout the office.
Cleanings after every appointment.
Deep cleanings each evening.
CDC-approved instrument sterilization.
Additional Personal Protective Equipment
Daily, your dentist is exposed to saliva, blood, and other bodily fluids that make their work environment considered high-risk. Therefore, both the CDC and OHSA recommend that additional personal protective equipment is worn to guard their mouth, nose, and eyes against dangerous microorganisms. In addition to face masks and gloves, they may also use face shields, goggles, and disposable coats to keep them safe during dental procedures.
Social Distancing Guidelines
According to the CDC, social distancing may have prevented up to 185,000 deaths! While the transition out of quarantine has begun, maintaining a 6-foot distance and limiting the spread of COVID-19 remains crucial. Therefore, your dentist has re-designed their office to include:
Virtual waiting rooms.
Contactless greetings (i.e., air high-fives, friendly waves, etc.).
Sequenced patient scheduling to control foot traffic in and out of the office.
One-way traffic signs to keep patients 6-feet apart from one another.
Ensuring your safety at your next visit is your dentist's top priority. Although these measures take resources, time, and skill to execute, your dental team is happy to implement them to provide you peace-of-mind at your next visit. That way, you can get the oral care you need while remaining safe during COVID-19!
About the Author
After earning his Doctor of Dental Surgery from Baylor College of Dentistry in 1981, Dr. Robert Sikes practiced dentistry for nearly 30 years before joining the Peace Corps. Today, he is a member of the American Dental Association and uses his nearly four decades of experience to create beautifully personalized smiles. Before searching "dentist near me" on Google, visit his website or give him a call at 903-572-9720.