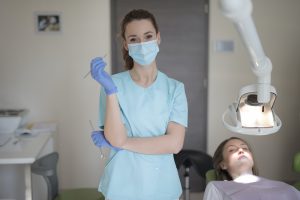 We live in unusual times as we practice social distancing to slow the spread of COVID-19. You've experienced several changes in your life over the last few weeks as many businesses have been closed, including your dentist. As the country reopens, you can schedule the dental appointment you've been putting off, but is it safe to go to your dentist? Dental offices are already some of the cleanest places, but we're going the extra mile to ensure ours is safe, so you have nothing to worry about during your visit. Here are 3 changes we've made to reduce your risk of coronavirus.
1. Better Personal Hygiene of Our Staff
Hand washing and hand sanitizer are effective in stopping the spread of viruses, but we know there's more we can do to keep you safe. In addition to personal protection, like gloves and masks, our dental staff is wearing long hair pulled back and their fingernails kept short. They are also sticking to their natural nails to ensure harmful bacteria aren't lingering on their hands. They may even remove jewelry and watches. Sometimes, we might wear a face shield for added protection.
2. Enhancing Our Cleaning Routine
We pride ourselves in creating a safe and clean dental practice. We're taking more time to clean than usual. Besides deep cleaning our office every night to get ready for the next day, we are also disinfecting and sanitizing between each patient according to the CDC's recommendations. Rest assured, anything that comes near your mouth has been properly cleaned, as well as any surfaces and equipment.
3. Encouraging Social Distancing
Social distancing is essential for reducing the spread of COVID-19. We're encouraging social distancing in our office as well to keep our patients safe. We're limiting our daily appointments and the number of people permitted in our office at one time. This makes it easier for you to keep your distance. If you need block scheduling, don't worry, we can still fit your family in.
Welcome Back to Our Office
As you reenter the community, it's normal to be concerned about your safety; however, your dentist in Mount Pleasant isn't anywhere to fear. We maintain the highest standards for cleanliness to reduce your exposure to viruses and bacteria. If you have any questions about our safety protocols before coming to our office, a member of our team is only a phone call away. Contact us today to get the peace of mind you need to maintain a healthy smile.
About Dr. Robert C. Sikes
Dr. Robert C. Sikes is committed to creating brighter smiles using the latest advancements in dentistry. He is always there for his patients, even during the COVID-19 pandemic. He's implemented several changes in his office to ensure it's a sterile, clean environment for his patients. As we reopen our doors, Dr. Sikes looks forward to providing you with the care you need for lasting oral health. Contact our office today to schedule your appointment.