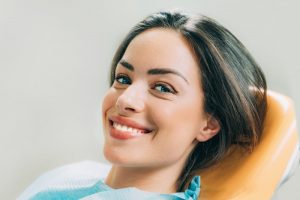 As you adjust to this "new normal" of living during the COVID-19 pandemic, you probably know your best defense is social distancing. With so much uncertainty, evidence does show that the main way this highly contagious virus spreads is through respiratory droplets from coughing and sneezing. However, if you maintain a social distance of 6 feet, your likelihood of being affected is slim. So, what if you need to go to the dentist? How can you maintain social distancing? Keep reading to learn how your dentist in Mount Pleasant is lowering the risk of COVID-19 for their patients by social distancing in their office!

The Safety Champion
One of the main ways your dentist is protecting their patients is by appointing a "safety champion." This key office member acts as a hall monitor of sorts, directing traffic, ensuring there is no unnecessary contact, and policing the bathrooms/common areas to keep them clean. The safety champion's job essentially keeps all patients as socially distanced as possible while helping them receive high-quality dental care. This includes checking the levels of hand sanitizing stations throughout the office as well as making sure that patient care areas have been cleaned before the next appointment.
Virtual Waiting Room
Another advanced safety measure that dentists have put in place to combat COVID-19 is virtual waiting rooms. By using the technology available, your dentist now allows patients to check-in to their appointments virtually. You can simply park in the parking lot, check into your appointment with your phone, and then you'll receive a notification in a few minutes that your dentist is ready to see you! After, you can walk into the practice with confidence that you are socially distanced from other patients.
Spaced-Out Scheduling
You may be used to seeing patients coming in and out of your dentist's office because of appointments booked back-to-back. However, in an effort to help social distancing during COVID-19, your dentist has spaced out their scheduling, automatically limiting the number of people in the office. This also gives them some extra time to clean and sanitize all the areas that have been touched before the next patient comes in. Additionally, accommodations can be made so that your entire family visits the office all at once, making your appointments efficient and safe.
During the Coronavirus pandemic, it's understandable that you may be stressed or anxious. That's why your dentist wants you to know about the efforts they are making to keep you and your family as safe and healthy as possible.
Meet the Dentist
Dr. Robert C. Sikes is an experienced dentist who has always been committed to the highest level of patient safety and care. Dr. Sikes and the rest of his team are taking 24 additional steps to keep their practice as clean and sanitized as possible. For any questions, he can be reached through this website or by phone at (903) 572-9720.