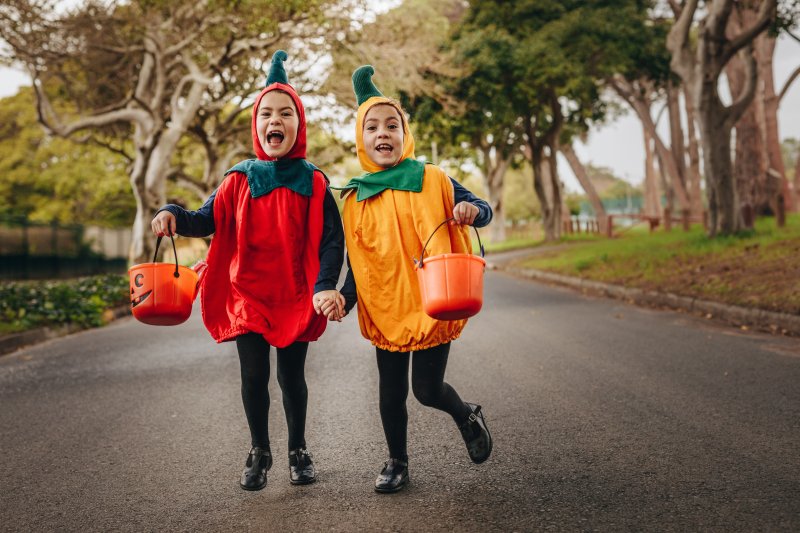 Who doesn't love to bite into a candy bar when Halloween is just around the corner? While we're sure your kids (and even yourself) are looking forward to knocking doors and saying the magic words for a sweet treat, the last thing you want to happen is for cavities to develop before the holidays. Thankfully, keeping a few Halloween oral health tips in mind can make all the difference. Read them from a dentist today to ensure your child's oral health remains protected even through the sweetest season of the year!
Skip the Biggest Offenders of Tooth Decay
While all candy can harm oral health, some candies are worse than others. For example, the worst offenders would be anything that is considered hard, sticky, gummy, or chewy. Keep in mind:
Hard candies not only stay in the mouth for long periods of time, but they can potentially crack and chip teeth.
Sticky candies can stay on teeth very easily, making them difficult to remove during brushing and flossing.
Gummy candies can get caught in the deep pits and fissures of teeth, especially the molars and premolars.
Chewy candies can easily stay in the mouth for an extended period of time and put stress on the jaw joints.
Keep a Strict Oral Care Regimen
It's important to maintain a strict oral care routine at home regardless of the season, but doing so around Halloween makes it even more important. For starters, make sure your family is brushing for at least two minutes at a time twice a day. They should be flossing at least once a day as well. It's best to practice oral care about 30 minutes after having a meal or any candy.
Moderate Candy Consumption
Eating large amounts of candy in one sitting is sure to increase your risk for cavities, but eating small amounts throughout the day can be even more harmful. The more frequently you expose your mouth to sugar, the more consistently oral bacteria has food to consume and then produce plaque acids that attack teeth.
To moderate your child's candy consumption, make sure to hold on to their candy stash after they finish their trick-or-treating. Only let them have candy after they've had their lunch or dinner. Saliva production is much higher after eating meals, and saliva plays a major role in reducing the risk of cavity development.
Stay On Top of Routine Checkups
Finally, you'll want to make sure your family has their routine dental checkups and exams scheduled. After the Halloween season is over, it can be reassuring to know that no underlying issues have developed as a result. You can also confirm their brushing and flossing are working as intended.
Get in touch with a dentist today to not only protect your family's oral health, but get other tips for a cavity-free Halloween!
About the Author
Dr. Sikes is dedicated to providing many dental services all under one roof and serves patients of all ages. Whether you're visiting for a routine checkup ahead of the holidays or looking to have restorative or other treatments completed, you can expect a professional that listens to your needs and provides helpful advice whenever you ask for it. To schedule an appointment, you can contact him through his website.