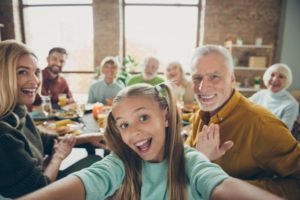 Savory food, family and friends, and great memories are the best parts of Thanksgiving. While you're most likely thankful for all of these things, have you considered adding your teeth to the list? Having a healthy smile does more for you than provide a great photo to post on social media. Your teeth work hard for you every day and even harder at Thanksgiving. Holiday oral health is important, and your dentist in Mount Pleasant has some simple tips to share that can help you show your teeth some appreciation this holiday season.
How to Show Your Teeth Some Appreciation
Thanksgiving gatherings often involve savory foods and drinks that are high in acid, starch, and sugar content. Fortunately, you can still indulge in your holiday favorites this season while showing your teeth some kindness with these simple tips:
Be Prepared With Floss and a Toothbrush
At home or away, having a toothbrush and some floss at hand is a great preventive measure. Take some time after eating and drinking to clean your teeth to prevent plaque build-up and cavities.
Pack Some Mouthwash
If you're unable to get away to brush your teeth, taking a swig of mouthwash is another great option that not only cleanses your teeth, but spruces up your breath as well. It is also super easy to find smaller travel sizes to take along.
Watch Out for Coffee, Tea, and Wine
These are some of the most popular beverage of choice during the holiday season, but it's important to be mindful of their high acid content. The dark colors can also stain enamel while the acid causes decay. In between glasses and cups, have some water to help rinse off your teeth.
Protein Is a Plus
Thanksgiving meals are often full of starchy sides like mashed potatoes and bread. These starches turn to sugar in your mouth, so instead of a second helping of stuffing, consider filling up another slice of turkey.
Steer Clear of Sticky or Dark-Colored Desserts
Okay, so maybe you can't steer clear completely. It is the holiday season after all, but it is important to limit your intake of sticky desserts in order to save your teeth from cavity-causing sugar decay. When it comes to pies and sauces, berry-based options can also stain tooth enamel, so maybe opt for pumpkin over a pie with a darker filling.
Your tastebuds might thrive during the holidays, but your teeth tend to take a beating. The great news is that you can keep your teeth happy while still enjoying your Thanksgiving favorites this year.
About the Author
Dr. Robert C. Sikes is passionate about creating happy and healthy smiles through the highest quality of care. He values education and knows that arming his patients with the ability to take care of their smiles is the best gift he can give them. His priority is ensuring that each patient he cares for experiences the utmost comfort at his office. Is your smile ready for the holiday season? Visit us online to request an appointment or call (903) 717-3063.