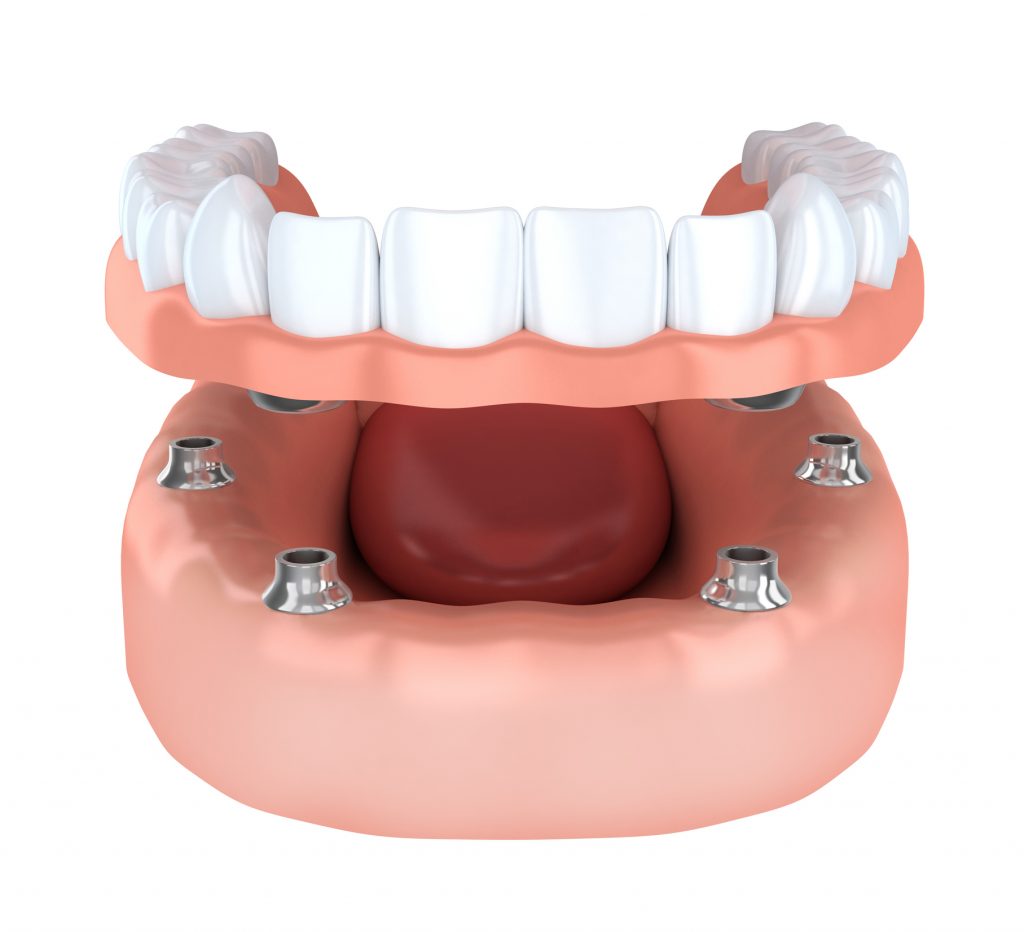 The All-on-4 dental implant treatment makes it possible to replace an entire row of teeth with just four dental implants. What's even more impressive is its ability to receive a denture the same day as your surgery, allowing you to keep your smile intact while you wait for your dental implants in Mount Pleasant to heal. Whether you're thinking about pursuing treatment or you've already completed your procedure, you're likely wondering how long these dental implants will last. To learn how you can increase their lifespan, keep reading!
How Long Do All-on-4 Dental Implants Last?
When placed by a professional, dental implants on their own last between 25 years and a lifetime when properly maintained. All-on-4 dental implants tend to last about 20 years or longer when you follow the steps mentioned below. The average success rate of dental implants reaches 95 percent, even after a 10-year period, so you should feel confident about your tooth replacements as long as you practice daily oral care and visit the dentist for routine checkups.
How Do I Clean and Maintain My Dental Implants?
Since the bridge portion of the restoration is fixed, cleaning it with a typical toothbrush is not the most ideal. Instead, it's encouraged that you use a Waterpik at least twice a day. Look for the access points that allow for the greatest dislodgment of food debris. Keep the speed of the Waterpik to a low or medium setting to prevent tissue detachment.
Next, make sure to floss underneath the bridge daily. Most dentists will recommend brands that have worked for other patients, whether they be of the thinner variety or disposable versions attached to handles for easier movement. Take your time when customizing your oral care as it will be very important in extending the life span of your implants. You may also want to consider an interdental toothbrush specifically design for dental implants, which can be found in most major grocery stores and pharmacies. To clean the portion of the bridge that transitions to soft tissue, use a sulcus brush. This brush is often considered to be more comfortable as it is much smaller than a normal toothbrush. Use it to clean and massage areas of the bridge that come into contact with tissue.
Diet Restrictions Following Your Surgery
The best way to avoid complications following your All-on-4 treatment is to maintain a soft diet for a set period of time. Eating tough foods immediately after your surgery could compromise their longevity, which is why you should keep the following diet restrictions in mind. For the first three months after your surgery, stick to a diet of:
apple sauce
cooked or ripe fruits
soft veggies
scrambled eggs
roasted and stewed chicken
broiled fish
tofu
soups with soft and small pieces of food
pancakes
muffins
waffles
mashed potatoes
soft-cooked pasta
oatmeal
pudding
ice cream
With All-on-4 dental implant treatment, restoring your smile doesn't mean you should have to lose it in the process. Contact your dentist to learn more about keeping your implants healthy following your procedure!
About the Author
Dr. Robert Sikes earned his Doctor of Dental Surgery degree from the Baylor College of Dentistry. With over 30 years of practice under his belt, he's more than prepared to help you achieve optimal oral health via comprehensive All-on-4 treatment. To learn more about the process or ask a question about your aftercare, you can contact him through his website.