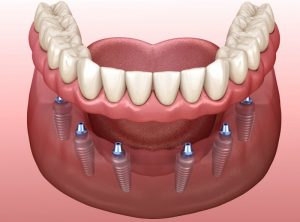 If you're missing all or most of your teeth, doing the simple things in life can be hard, annoying, or downright impossible. Eating your favorite foods, pronouncing certain words, or even smiling can be difficult and leave you feeling embarrassed. Luckily, you can easily replace those missing teeth with special dentures retained by dental implants in Mt Pleasant. With All-on-4 dentures, your false teeth are held in place by permanent implants, which provides a whole laundry list of benefits. Let's look more closely at those advantages, and how to take care of your dentures.
What Are Implant-Retained Dentures?
To replace your missing teeth, your dentist in Mt Pleasant will find the 4 strongest areas of your jawbone and place dental implants there, or metal posts that are meant to mimic the roots of lost teeth. The implants will take a few months to fuse with your jawbone. During that time, you will be fitted with a temporary denture to keep up the appearance of your smile. Then, when the implant integration is complete, you'll get your permanent dentures.
What Are the Benefits of Implant-Retained Dentures?
Implant-retained, or "permanent" dentures, come with many advantages over traditional dentures, such as:
Implants prevent jawbone deterioration.
All four implants can be placed in one surgical procedure.
It typically doesn't take long to recover from the surgery.
The procedure will give you a powerful and gorgeous bite for years and years.
This denture won't slip and slide around when you eat or talk.
How Do You Take Care of Permanent Dentures?
While the name implies that these dentures will stay in your mouth forever, they are actually attached to metal connectors on the implants called abutments. When you're not wearing your "permanent" dentures, you'll have to remove them to give your gums and jaw a chance to rest. Here are some tips to keep your dentures clean:
After you remove them, place them in a container of denture cleaning solution. You can also soak them in water, but be sure it's not hot, as that could warp the shape.
Brush your dentures every day to prevent stains and plaque buildup.
Before you insert your dentures in the morning, brush your tongue, gums, and palate with a soft-bristled brush. This stimulates circulation and helps get rid of plaque that can cause gum disease.
See your dentist every six months for a checkup. They can offer you even more tips on how to keep your dentures in great shape.
All-on-4 permanent dentures are a great way to restore your smile to its former glory. Talk to your dentist today to see if they're right for you.
About the Author
Dr. Robert Sikes earned his Doctor of Dental Surgery degree from Baylor College of Dentistry in 1981. He has been providing comprehensive dental care to patients in the Mt Pleasant, TX community since 2012. He is a member of the American Dental Association and the Texas Dental Association. His practice offers All-on-4 dentures to help you rebuild your smile. If you are interested, you can visit the doctor's website or call (903)-572-9720.