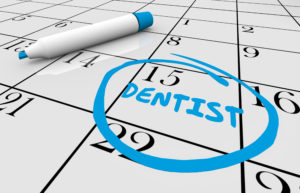 The start of a new year is a busy season for many of us. Whether you're taking steps in improve your health or filling up your calendar, you probably have a lot on your mind. As you plan out the upcoming year, don't forget to make time for your smile! Oral health may not be the most pressing matter on your mind at the moment, but now is the perfect time to schedule an appointment with your Mt. Pleasant dentist. Here are three very important reasons you should start the new year off with a dental checkup.
Catch Problems As Early As Possible
The earlier problems like tooth decay, gum disease, and teeth grinding are detected, the easier (and less expensive) they are to treat. What's more, your dentist also uses regular checkups to look for signs of serious issues like cancer, jawbone deterioration, diabetes, and many more. Seeing your dentist every six months even if your smile seems healthy is the best way to spot and stop issues as early as possible.
Keep your Smile Happy & Healthy
Do your teeth look and feel fine? Make sure to get a dental checkup anyway to make sure they stay that way! After all, the saying "an ounce of prevention is worth a pound of cure" is especially true when it comes to oral health. Two dental checkups a year allow you to get the personalized preventive care you need to keep oral health issues at bay before they get a chance to start causing damage. Whether you get a fluoride treatment to deter cavities, a nightguard to combat bruxism, or a thorough cleaning to clear away tartar by your gums, a quick checkup can save you a lot of time, money, and hassle later in the year.
Maximize Your Dental Benefits
If you have dental insurance, it's likely that your plan was renewed or "reset" at the beginning of the year. This means you have to meet your deductible before your dental insurance begins to cover your dental care. Visiting your dentist early in the year will help you meet that amount faster, which will give you the peace-of-mind knowing that any unexpected visits or dental problems later in the year will be covered. What's more, many dental policies cover the cost of two dental checkups and cleanings every year at 90-100%, so it's important to take advantage of them to maximize your benefits!
Start the new year with a smile and a dental checkup! A quick visit to your dentist now can help you live your best life for the rest of the year!
About the Practice
Dr. Robert C. Sikes has been providing comfortable, personalized dentistry for the smiles of his hometown Mt. Pleasant as well as Dallas and the surrounding communities for nearly 40 years. He and his team strive to create a fun and relaxed atmosphere for their patients to enjoy as they achieve the happy, healthy, and beautiful smiles they deserve. Whether you need a simple cleaning or a more complex treatment, you can expect personalized care, a compassionate team, and a pleasant experience. To schedule your next appointment, he can be reached via his website or at (903) 572-9720.