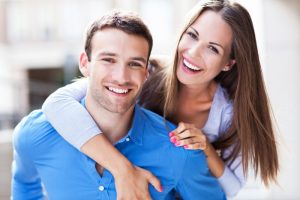 April is Oral Cancer Awareness Month—a national effort to bring awareness to an increasing problem in the US. Over the past 16 years, oral cancer has grown year after year, even in patients who don't have any of its risk factors. Of all the different types of cancer, this is one of the most curable if it's caught early on. That's why oral cancer screenings with your dentist in Mount Pleasant are so vital. Keep reading to see how your dentist could potentially save your life in a matter of minutes.
What are the Symptoms of Oral Cancer?
Warning signs of oral cancer are hard to detect on your own, which is precisely why your experienced dentist provides oral cancer screenings during your regular checkup. However, you should contact your dentist right away if you notice any of these common warning signs:
Trouble swallowing
Pain when swallowing
Red or white patches in your mouth
Numb spots in your mouth
Changes in color of soft tissue
Sores in or around your mouth that won't heal
Lumps, bumps, or growths
Loose teeth
Pain in your mouth
Pain in your ears
What Should I Expect During a Screening?
Oral cancer screenings are so quick and easy that you may have already had one without knowing it. A typical oral cancer screening is conducted during your biannual dental checkups. It consists of two parts: a visual and physical exam. During the visual portion, your dentist will check your mouth, head, neck, cheeks, tongue, throat, gums, tonsils, and any other related areas for abnormalities that may tip off oral cancer. Afterwards, they will perform a noninvasive physical exam, where they will simply feel around your jawbone and lymph nodes for any lumps or bumps that may tip off oral cancer.
Who Does Oral Cancer Affect?
While there are certain risk factors of oral cancer, this disease can affect anyone at any point in their life. That said, you may have a higher risk of oral cancer if you:
Regularly smoke or use tobacco products
Heavily consume alcohol
Have had prolonged exposure to sun
Have any family history of oral cancer
A recent discovery is that a growing number of those who don't exhibit any of these risk factors but have HPV are being affected by oral cancer. This number continues to increase year after year, and research hasn't given us a definitive answer about the link between these two problems.
When is the last time that you and your family received an oral cancer screening? Contact your dentist to book this quick and easy screening that keeps you healthy.
Meet the Dentist
Dr. Robert Sikes is a Mount Pleasant native who loves caring for his community. He believes in patient education, which is why he wants you to know why oral cancer screenings are so important. He currently runs his own practice, and he can be contacted through his website or by phone at (903) 572-9720 for any questions.