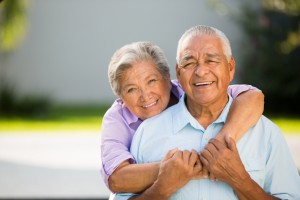 Dental implants are today's standard in tooth replacement. Mount Pleasant, TX dentist, Robert C. Sikes, answers patients' questions so they make informed choices.
People lose teeth to gum disease, accident and decay. Replacement best preserves normal eating, chewing, personal appearance and jaw bone integrity. Smile gaps spanned by dental implants help qualified patients enjoy better oral health.
What is a dental implant?
A dental implant is a prosthetic tooth. Made up of a titanium screw, placed into the patient's jaw during in-office surgery, a metal abutment, or extension, and a porcelain crown, the implant securely and beautifully replaces a missing tooth from root to crown. Patients praise their implants as looking, feeling and functioning– just like real teeth.
Frequently asked questions about dental implants
Who qualifies for dental implants? In general, patients with good overall health and sufficient jawbone size and density receive dental implants. Augmentation procedures build up the bone, if necessary, so an individual can get this innovative restoration. People who are diabetic or who smoke often experience less success with, and retention of, dental implants.
How long does the procedure take? The procedure takes several visits. The first appointment involves examination, imaging and formulation of the treatment plan. Subsequent visits involve implant placement, followed by a period of healing, and then attachment of the abutment and customized porcelain crown.
Is implant placement painful? Placement is no more uncomfortable than other restorative procedures such as fillings. Local anesthesia normally controls discomfort.
Why are dental implants so secure? Implants meld right to the jaw bone because titanium and human bone possess a natural attraction for each other. As the jaw heals after implant placement, the bone melds to the implant through a natural process dentists call "osseointegration." This bonding process, plus the natural forces associated with chewing and biting, exercise the bone, making it strong and dense. Traditional dentures and bridgework do not have this advantage.
Are dental implants successful? Yes, they are very successful. Over the past few decades, dentists have placed more and more of these artificial teeth and find that most are still in place and functioning. Dental implants have an overall success rate of over 90 percent and a similar retention rate.
Can implants work for someone missing multiple teeth? Yes, implants may be placed singly or in multiples. In fact, they often anchor partial or full dentures (either fixed or removable) or bridgework.
Are dental implants expensive? Dental implants cost more initially than traditional replacements. However, they preserve gum tissue and bone, and they stay in place indefinitely. Other options cost less at first but are usually replaced in 7 to 10 years.
Contact Dr. Robert C. Sikes
Mount Pleasant, TX dentist, Dr. Robert C. Sikes enjoys making smiles complete and beautiful. He can do the same for you. If you would like to explore dental implants, contact the office today to set up a personal smile consultation.