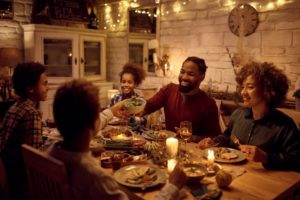 What better time to reflect on the good aspects of your life than during the holiday season? Not unlike New Year's resolutions, the holidays provide an excellent opportunity to consider how you can better yourself for the year to come. As far as improvement goes, your teeth can get an upgrade in more ways than one if you choose dental implants as a tooth replacement option. Read on to learn how dental implants in Mt. Pleasant can give you so much to be thankful for during the holidays and year-round.
Be Confident About Your Smile
Dentures can slip out of place in your mouth when you talk and eat, while a dental bridge can cause tooth sensitivity. On the other hand, since they are fused to your jawbone, dental implants provide great stability so that you can talk up a storm while trying that new restaurant with your friends.
Enjoy Your Favorite Foods in Comfort
At those big sit-down occasions like Thanksgiving and Christmas dinner, there are sure to be so many delicious dishes and you're going to want to try them all. With dental implants, you have the biting power to partake in any main course, side dish, or dessert. Dentures restore about 30 percent of your natural chewing force while implants boost you up to 75 percent or more! Never worry about causing a scene at the family meal because you shouldn't have tried to eat those pork ribs and ended up heading to see your emergency dentist.
Elevate Your Chances of Avoiding Oral Health Problems
They promote oral health and lower your risk of developing tooth decay, gum disease, and oral infections. Speaking of development, when you get dental implants, they stimulate bone growth in your jaw. On the other hand, if you suffer tooth loss and do not promptly seek a replacement, you naturally begin to lose mass in your jawbone.
Stabilize the Teeth Near Your Implant
The gap from a missing tooth can cause adjacent teeth to shift towards it. This pulls your teeth out of position and can affect your bite, ability to chew, and appearance. When you get a dental implant to fill that space, the teeth on either side of it are supported to bring essential stability to your smile.
Invest in a Durable Solution
When you take good care of them, they have a longer lifespan than any other form of tooth replacement due to their strength and durability. While the ceiling on a dental bridge or denture is about seven years, dental implants can last decades and potentially the rest of your life.
Able to improve your quality of life in multiple ways, dental implants are an addition to your smile worth feeling thankful for. To learn more about the implant procedure and find out if you are a quality candidate for them, schedule a consultation with your implant dentist in Mt. Pleasant today!
About the Author
Dr. Robert Sikes earned his dental doctorate from Baylor College of Dentistry. He has been working for the smiles of patients for four decades and is a member of the American Dental Association. If you are interested in dental implants, he is partnered with highly trained implant specialists, utilizes a cone beam scanner for precise planning, and offers reasonable prices without any hidden fees. Schedule a consultation on his website or call (903) 572-9720.