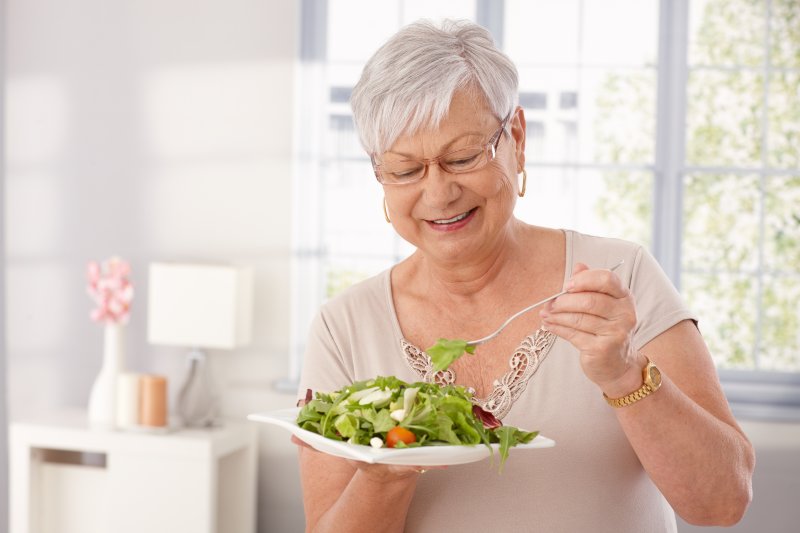 With so many backyard barbecues and pool parties happening over the next several months, you may be wondering which summer foods are best to eat while wearing dental implants. Yes, they give you a greater bite force and chewing power and are capable of withstanding more pressure than regular dentures or dental bridges, but are there foods that are better to consume than others? To help you prepare for your next family or social gathering, here are 4 foods you can eat without worry when living with dental implants.
Why Dental Implants Hold Up Better Than Dentures
If you've ever worn dentures, you understand how difficult it can be to maintain a healthy, nutrient-rich diet. Not only can dentures slip or fall out because they only sit on top of your gums, but they can become loose and create an uneven bite, making it even harder to consume certain foods without feeling embarrassed.
With dental implants, you can feel much more at ease because of their surgical placement. Because they must fuse with the bone tissue to maintain stability and permanence, you'll never need to worry about paying attention to how you eat or swallowing frequently to keep your prosthetics in place.
4 Summer Foods You Can Freely Eat
While it is true there are certain foods that can damage both real and artificial teeth, you can, for the most part, eat what you like while wearing dental implants. Yes, hard foods and dark-colored beverages have the potential to stain or cause minor chips or fractures but knowing how to eat certain items can make a big difference.
This summer, as you prepare to fire up the grill and invite your family and friends over, don't be afraid to add these delicious foods to your plate:
Fresh Fruit: No diet is complete without a healthy serving of fruit. No matter your preference for berries or melons, these colorful treats are filling, nutritious, and are great to help you cool down in the summer heat. Not to mention, they're a great substitute for other sugary, calorie-filled desserts.
Corn On the Cob – Who says you can enjoy corn with dental implants? The only adjustment you should make is to cut it off the cob before eating. Why? Because unfortunately, the tiny kernels can get stuck between your implants and natural teeth, which can be very annoying.
Hot Dogs – It's unlikely you'll attend a family event that doesn't involve hot dogs this summer. Should you choose to eat one, make sure you're watching how many you consume. The reason for this is that they contain high levels of saturated fat, which is known to cause inflammation. As a result, you can put yourself at risk for gum disease and experience potential bone loss and implant failure if left untreated.
Veggie Kabobs – In addition to colorful fruits, you'll also want to add some healthy veggies to your plate. Creating kabobs is a great way to make your meal a bit more exciting, especially when adding favorites like zucchini or squash.
With dental implants, your food options are endless. But if you're unsure about a particular menu item that you know will be available at your next social gathering, don't hesitate to ask your dentist.
About the Author
Dr. Robert Sikes is a native of Mount Pleasant who completed his Doctor of Dental Surgery degree from the Baylor College of Dentistry in 1981. After practicing for more than 30 years in Dallas, he joined the Peace Corps and worked in Macedonia. Moving back to Texas in 2012, he opened his practice and has been helping the residents of the community ever since. With a goal to help rebuild and restore smiles, he is pleased to provide dental implants to patients who are suffering from tooth loss. Partnering with local specialists, Dr. Sikes will answer any questions, address all concerns, and provide helpful tips to make living with these permanent prosthetics a breeze. If you are unsure about how you can get started with dental implants, contact us at (903) 572-9720.