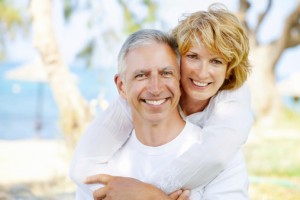 If you're missing one or more teeth, you may already be experiencing adverse effects of missing teeth like difficulty chewy and speaking, dental drift, and changing facial shape. Traditional tooth replacement options can help you restore the look of your teeth, but they aren't as helpful in fixing some of the hidden concerns associated with tooth loss like gum tissue and bone density loss, and changing facial shape. Dental implants replace your whole tooth from the root up providing added support for gum tissue and bone density. If you want to learn more about dental implants and whether you would be a successful candidate, call to schedule a consultation with Dr. Robert C. Sikes in Mount Pleasant, TX today.
The Dental Implant Process
Patients who are interested in replacing missing teeth with dental implants should plan on at least three office visits. During an initial consultation, Dr. Sikes will review your oral and physical health to determine whether you are good candidate for dental implant surgery. Most patients who are healthy enough for other minor oral surgeries are health enough for dental implant placement. If you decide that dental implants are the right tooth replacement option for you, Dr. Sikes will create a plan for implant placement and takes molds to create your tooth replacement prosthetic.
The next visit may be your surgical visit to place the implants. This depends on how much preparation your mouth needs before the implants can be placed. Patients who need extensive tooth removal or other preparations may need 2 or more surgical appointments to prepare the mouth, and place the implants. Dental implants are posts made from titanium, a metal that has proven to be extremely compatible with natural bone tissue. These posts are strategically placed below the gum line to replace the root of the tooth and help to maintain gum tissue, bone density and facial shape. Abutments are placed to connect the posts to the prosthetic replacement tooth or teeth. Before your final replacement prosthetic can be secured, you'll be given a temporary prosthetic to allow the posts time to fuse with your jawbone, and your sensitive gum tissue time to heal.
Once your dental implants have fused with the jawbone and the gum line has healed, your custom replacement teeth will be attached. Because the posts function as an anchor the way that roots do, your teeth are secure. That means you don't have to worry about biting into an apple or eating any of your other favorite, chewy foods. Implant supported tooth replacements do not need to be removed for cleaning. You can brush and floss just like your natural teeth. The benefits of dental implants are numerous.
How Long do Dental Implants Last?
Answering the question "how long do dental implants last" is not as easy as it may sound. Like your natural teeth, dental implants are dependent upon a thorough oral health care routine and regular preventive dental visits to remain healthy. With a good dental health care routine, your dental implants can last a lifetime.
Find Out More from your Mount Pleasant Cosmetic Dentist
Not all patients are good candidates for dental implants, with technology innovation and improvement, they are available for more people than ever before. There's no way to know if you'll be a good candidate for dental implants without Dr. Sikes performing a thorough dental examination. Call to schedule a dental implant consultation to find out more. Our friendly staff welcomes patients from Mount Pleasant, TX and surrounding areas including Tyler, Longview, Sulphur Springs, and Kilgore.