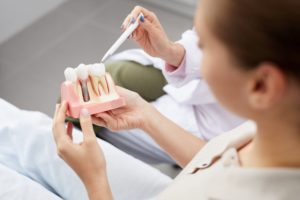 Have you recently had to get one or more teeth removed? Are you frustrated with the limitations of your dentures? If you answered yes to either of these questions, then dental implants might be just the solution you need. Maybe you've heard of this tooth loss solution, but you're not exactly sure what dental implants are. If so, then you've come to the right place! Read on to learn the basics of dental implants and why they're the best way to replace missing teeth.
Dental Implants 101: What Are They?
Your teeth actually have two parts: the crown that is visible above your gums, and the root structure that extends further down into your jawbone. Most tooth replacements, including dental bridges and dentures, only bring back the crown portions of lost teeth. Because of this, they don't feel quite as natural as your real teeth.
Dental implants, on the other hand, are the only option that recreates every single part of the tooth. The implant itself is a small, screw-shaped titanium post that is surgically positioned into your jawbone where the root of your tooth once was. Then, a custom dental crown (or bridge or denture) is placed on top, completing your smile.
Getting Dental Implants
Once your dentist determines that you're eligible for dental implants, you'll undergo an oral surgery to have the posts inserted into your jaw. Over the next three to six months, osseointegration – the process of dental implants merging with the surrounding bone and tissue – occurs. Afterward, a metal piece called an abutment is attached to the implants. This allows your dentist to secure your restoration (crown, bridge, or denture) on top.
The dental implant process can end up taking several months to a year or longer. However, the benefits they provide make them worth the wait.
Why Dental Implants Are the Superior Tooth Replacement
Here are just a few of the reasons you should consider dental implants:
Because they mimic every aspect of your original teeth, dental implants are able to look, feel, and function just like the pearly whites you used to have.
Their firm placement in the jaw restores more chewing power and helps you eat all of your favorite foods without worrying that your teeth will slip or fall out.
They're the only tooth loss treatment that prevents the jawbone from shrinking after teeth have gone missing, preventing the wrinkled appearance that often accompanies missing teeth.
Since the implants fuse to the bone, they're able to last exponentially longer than dentures or bridges. In fact, if you take good care of them, they could easily last for 30+ years!
Now that you know the basics of dental implants, why not schedule a consultation with your dentist? They can help you begin the process of rebuilding your smile!
About the Author
Dr. Robert Sikes has been providing comprehensive dental care to the Mount Pleasant, TX community for nearly 40 years. He partners with the best local specialists for the surgical steps of the dental implant process in order to guarantee high-quality treatment. To learn more about how dental implants can change your life, you can reach Dr. Sikes via his website or at (903) 572-9720.